Dec 6, 2022
Water treatment and the future for fiber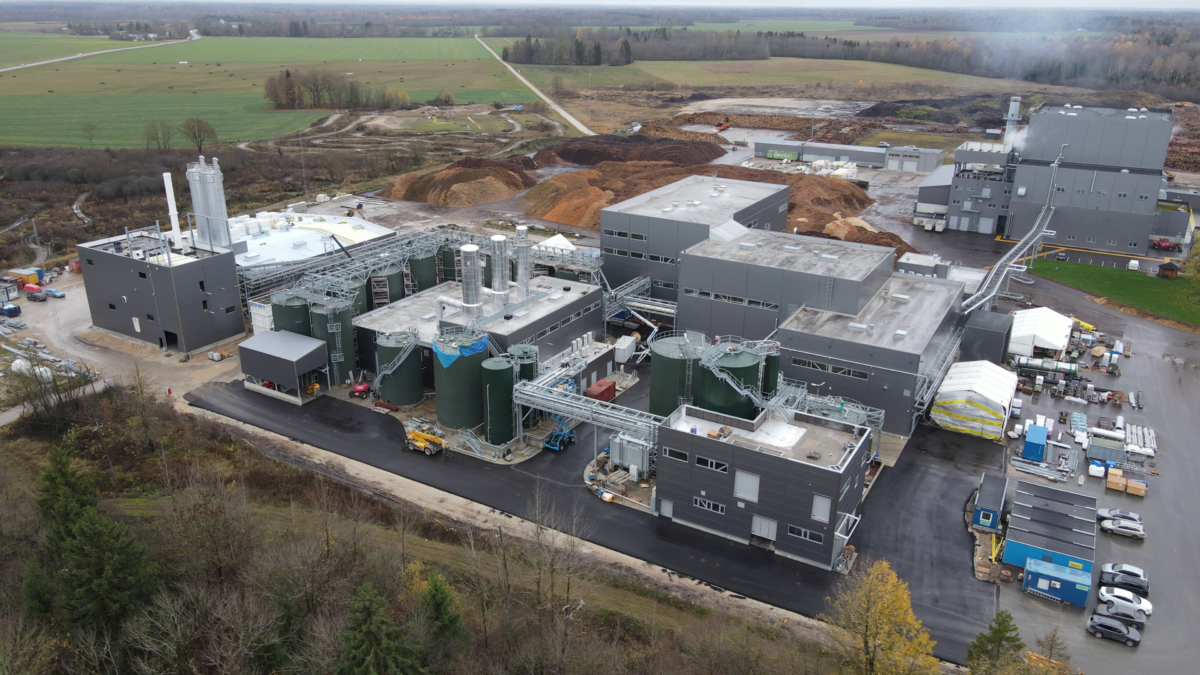 A unique technological breakthrough is turning wood residues into a wonder material. It's a technology that embodies the circular economy and sustainability and at its heart is an efficient water treatment system from Biothane, a business unit of Veolia Water Technologies.

Fibenol is putting the finishing touches to a full-scale demonstration unit for a remarkable new technology that has the potential to transform a whole range of major industries using materials produced from wood. Instead of the current system of fossil fuel-based building blocks in sectors like chemicals, liquid fuels, and construction, the technology represents an opportunity to deploy bio-based materials using a process that exemplifies the circular sustainable economy. It's a radical modernisation of the forestry sector, but at the heart of the system is effective process water treatment. Key to the success of the project was a close partnership between Fibenol and Biothane. Working with Fibenol, Biothane played a vital role in achieving the desired outcomes of plant design in terms of sustainability, efficiency, and productivity by allowing almost all of the process water to be treated and reused.
Led by Fibenol, the  SWEETWOODS consortium project is a commercial-scale demonstration plant that is under development at Imavere in Estonia. Nine European companies have joined forces in this flagship project. By using a novel pre-treatment process in combination with enzymatic solutions, the residual hardwood feedstock can be transformed into high-value products.
Even in the demonstration phase, the so-called Sunburst pre-treatment process developed by Sweetwater Energy Inc is already meeting expectations on performance targets. Crucially though, the elegant wood fractionation design converts more than 90% of the biomass into high-value usable bioproducts within a small physical footprint and with minimal environmental impact.
Using proprietary technology, the plant efficiently converts wood processing residues into high-purity cellulosic sugars and lignin called  LIGNOVA™ at an industrial scale.  LIGNOVA™ materials are used for production of biocomposites for injection molding, different resins and adhesives, tested out inrigid polyurethane foam panels for insulation and many other applications. The produced cellulosic sugars are also suitable for fermentation processes to make bio-isobutene, for example. This is a key ingredient in many fossil-based products and its conversion into cosmetics ingredients has already been successfully demonstrated.
Ultimately, this resource-efficient and value-added approach marks a breakthrough for wood processing, transforming a relatively static sector into a cutting-edge biomaterial and biochemicals industry that provides sustainable alternatives to fossil fuel-based resources.
Reinventing wood products

Over the last 20 or 30 years, there has been lots of effort to innovate new techniques for the bioprocessing of woody biomass, in particular for converting wood into biobased building blocks. The primary obstacle has been to achieve that outcome at good efficiency and to do it in a way that the outputs are of high quality. The Sunburst pre-treatment process allows us to produce sugars that can be with ease used for ethanol fermentation but also other biochemical fermentation routes. The quality of the high-purity hydrolysis lignin and the unique extraction method for microcrystalline cellulose are enabling a new era of biomaterials and bioproducts, helping industries do more with less at high efficiency, with minimal environmental impact and maximum resource recycling and reuse.
With lower greenhouse gas emissions, decreased water and chemicals requirements, the Sunburst fractionation process utilises almost the entire wood mass while reducing waste by some 80% when compared with other state-of-the-art industrial biorefining processes. It also proves the ease of implementation and simple operations needed to recover this additional value from a small footprint. The Sunburst pre-treatment module requires less than 250 m2 to convert wood flakes into an easily pumpable homogenous liquified wood slurry.
Taking less than 45 minutes from start-up to reach operational conditions, its high-purity outputs are largely free of unwanted by-products, making a true biorefinery possible and offering the possibility that almost anything that is made from oil today could be made from wood in the future.
Developing the SWEETWOODS demonstration plant downstream process design concept started with the wastewater treatment and selecting a top-tier water treatment partner like Biothane. It was determined that to ensure process efficiency the plant would need to use technology that allows at least 75% of the treated water to be recycled as process water. With this as the starting point, it was possible to begin defining what kind of technologies were to be used. Furthermore, about 90% of the organic fraction within the outflow is transferred to the biogas production process which is then used within the on-site combined heat and power plant for energy production. The process is fully powered by renewable energy, which part is derived from the produced biogas.
Although it is a unique process, Biothane delivered the robust water recycling elements of the system using standard and off the shelf technologies from Veolia's extensive water treatment tool box.
The future of fractionation

Development of the concept for SWEETWOODS wood fractionation demonstration plant began in 2016. Complete final acceptance tests of the Sunburst pre-treatment technology have already been achieved in 2021 and the demonstration plant will be fully functional in 2023. Annual production capacity will be around 8,000 tonnes of different LIGNOVA™ grades and some 20,000 dry tonnes of cellulosic wood sugars.
The next phase of the Fibenol developments will see the technology scale to full industrial capacity with production rates of 8 to 10 times that of the demonstration plant in Estonia. Given the pre-treatment technology is modular, the capacity of any subsequent plant can be easily scaled depending on the location and feedstock availability. Again, water treatment will be the defining factor in developing plant capacity but further improvements are possible here. For example, the decision to deploy a cross-flow type membrane in the demonstrator plant was a consequence of the very small footprint available at the Estonian project site. Indeed, the entire system including water treatment occupies a footprint of just 500 m2. Nonetheless, at any full-scale unit, a submerged filtration system would represent an opportunity to reduce energy consumption if more space was available. Similarly, if further improvements in water quality are needed, the existing filtration system could be extended with the deployment of off-the-shelf reverse osmosis (RO) membrane filtration system.
Traditionally, the wood industry has been focused on a specific end product while any by-products are typically used as feedstock for low-value energy solutions. With the Sunburst pre-treatment process breakthrough, a new approach is made possible by Fibenol. The raw material feedstock is still forestry and wood industry derived, but by turning materials of limited value into high-value biomaterials, the philosophy is completely different.
For the SWEETWOODS project, Biothane's technology is delivering biogas and cleaned process water for recycling at high efficiency, a low-impact process that sits at the heart of this wood fractionation revolution. It's a system that not only reduces fossil fuel use and minimises the impact on water resources but is the full realisation of the sustainable circular economy.